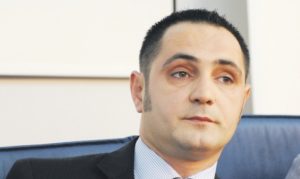 The proposed Law on Spatial Planning has serious systemic disadvantages and regardless of the motivation of Minister of Sustainable Development Pavle Radulovic to continue to mislead the public, the fact is that this document has been made in order to protect the private interest of construction lobbies.
From the very beginning of the drafting of this law, Minister Radulovic has deceived the public, both as far as the public debate is concerned, and today, when he claims that this law only can adequately preserve and develop the space of Montenegro.
Unfortunately, the reality is quite different from what Minister Radulovic is trying to "sell" as an anti-corruption law, alongside the theatrical "face-off" with construction lobbies, "stirring up a hornet's nest" and other slang that should conceal persons due to whom Radulovic is so keen on defending this law.
MANS has already warned that the proposed solutions are unsustainable, that the law itself is in conflict with the legal framework, especially when it comes to compliance with the Constitution of Montenegro.
The centralization that Minister Radulovic advocates so much is one of the provisions of the proposed law that is inconsistent with the Constitution. Denying the right of local governments and parliaments to vote for a planning document is a violation by several articles of the Constitution of Montenegro.
Thus, for example, the right to local self-government guaranteed by Article 22 is being violated, as well as the constitutional provision which stipulates that the local self-government decides directly and through freely elected representatives, and that the right to local self-government includes the right of citizens and local self-government to regulate and manage certain public and other activities.
In the same way, the disputable law suspends the right of citizens to directly and through elected representatives in local self-government manage the space and facilities that represent assets of the local self-government and which are owned by the self-government. It suspends the right of the municipality to exercise certain property powers on state property in accordance with the law, which is required by Article 116 of the Constitution of Montenegro.
It is little known that centralization of decision-making power has ever been used to tackle widespread corruption in urbanism, and even less so that of such "treatment" was administered by an institution and staff that had never been held accountable for the urban chaos which the country is in today.
That is exactly what Minister Radulovic is advocating, laying the blame for everything that happened only and exclusively on local governments, without asking questions about what to do with corruption in the institution he is managing.
MANS therefore invites all Montenegrin local governments to suppress the obvious intention of the government to brutally interfere with their rights, guaranteed not only by Montenegrin laws, but also by international documents to which Montenegro has committed.
Dejan Milovac
Investigation Center Director MANS